The W.O.M.E.N.'s Ministry of St. Mary Parish originally was started by a group of ladies who wanted to have a "Ladies Night Out" but with a purpose; thus, the start of the RED CARPET GALA.  We wanted to help our Parish, our community and each other.
Periodic meetings are open to all.
Nancy Glover
(254) 773-4541
Mission Statement: Our mission is to make Jesus Christ relevant in our everyday lives as a community of believers witnessing the Gospel.  We celebrate our salvation through worship, education, outreach and evangelization, and by calling forth the time, talents, and treasure of our members;  to evangelize to the women in our community (family, parish, local, & universal) through service, charity, fellowship and faith.  Our acronym stands for:  Women's Outreach Ministry Evangelization Network.
Purse Bingo

2016 was our first year to offer Purse Bingo as our main fundraiser for the year.  It was an amazing success, thanks to all our volunteers and generous participants!
Sunday, May 21, 2023 at 2:00 PM
Doors Open at 1:00 PM
Mayborn Convention Center
3303 N 3rd St, Temple, TX 76501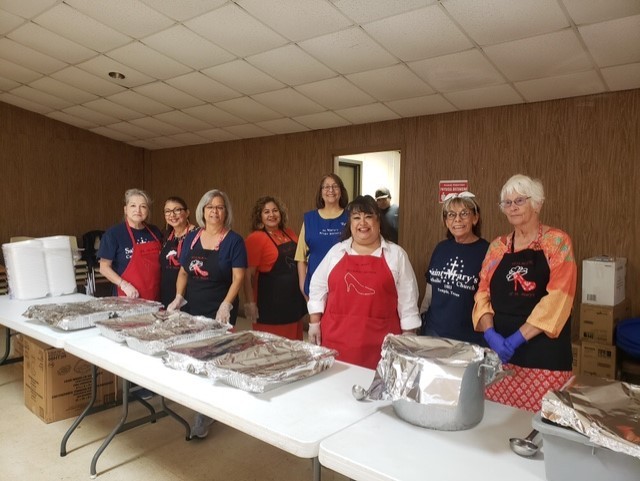 Scholarship
$500 scholarship offered to St. Mary's graduating high school students.  It is offered to boys and girls.  Applications are submitted to the parish office and the winner is selected by a committee utilizing a grading system with the criteria outlined as follows:
Scholarship will be awarded to any graduating senior that is a member of St. Mary's Parish in Temple, TX. 
Applicant must be seeking a college degree or certificate.
Applicant must submit a copy of high school transcript.
Scholarship application must be completed and 300-word essay attached. 
Bingo Night
The Knights of Columbus have Bingo every Thursday night at the K C Hall.  The W.O.M.E.N.'s Group volunteers to take charge of the concession stand when there is a fifth Thursday in the month.  Our cooperation with the Knights is one of mutual interest and proves to be beneficial to both ministries.
Breakfast with St. Nick
Kids get to take pictures with St. Nick and have breakfast with him.  The cost of a pancake breakfast plate will be one unwrapped toy or baby item – to benefit the Maternity Shelter and other local charities.
Christmas for St. Mary's Homebound
Gift bags are made for the parishioners on the home routes and nursing home routes for Christmas.  Generally, we get together an array of items that were identified as a "wish list."
St. Mary's Annual Parish Festival
The W.O.M.E.N.'s Group will assist the Picnic committee throughout the entire event.  This is a major fundraiser for the Church and our group volunteers in all areas to help ensure a successful outcome.
Knights of Columbus
The Easter Egg Hunt is a wonderful event that the W.O.M.E.N.'s Group assists with as volunteers.  The event is well attended and has proven to be successful year after year.